I am an Electrical and Electronic Engineer. I have been involved in teaching and research at the Department of Electrical and Electronic Engineering of BUET, Bangladesh. Recently, I undertook Post-Doctoral Research at the School of Electrical and Computer Engineering, Curtin University of Technology, Perth, Australia and have got back to Bangladesh. Currently, I am aserving as a Professor of Digital Communication and Signal Processing at the Department of Electrical and Electronic Engineering, BUET.


WANT TO HAVE A LOOK AT MY FAMILY?
Yes, we are four to make our lovely little family. Sabira Shameem, my wife, takes more interest in housekeeping and looking after the kids than doing jobs. She prefers to be a nice housewife. She is also good at cooking lovely dishes. I am grateful to her for her patience (as her name implies) and understanding towards everything in the family. Look, how we are together, back in 1990!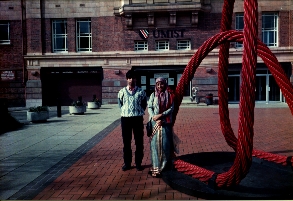 Myself and My Wife in front of UMIST (1990)
Not satisfied! Want to have a closer look? Click here!

We have been blessed with two lovely boys. The elder one is Muhammad Sa'ad Naasik and the younger one is Muhammad Suhail Najeeb. Our elder son Sa'ad was eight on the 8th January, 2000 and Suhail was five on the 3rd February, 2000. Sa'ad wants to become a Scientist or an Engineer and Suhail wants to be a Physician. Sometimes, he also wants to be like one 'Hatim-Tayee'. May Allah (One GOD, Who is Unique!) reward them with what they wish to be! Amin! Look at them here. Sorry, the photograph was taken two years ago.

My sons: Sa'ad and Suhail

Do you want to learn about RELIGION and ISLAM, the "Only Religion" or "Way of life" that is acceptable to Allah (The One GOD, Who is Unique-'Elohim' in the Bible). Then click the following link RELIGION and ISLAM!

I have also introduced a Books and Magazines Shop for you here. Click here to Visit my BOOK SHOP!

Do you want to buy Magazines? Then Click the magazines of your choice below.



Computer Shopper
Magazine DescriptionComputer Shopper is one of the nation's largest and most reliable guides to the best, dollar-wise computer deals. Every issue features more than 1,000 mail-order deals for hardware, software, printers, peripherals, and accessories — plus a quick-reference product index, a hardware shopper's guide with comparison charts and purchasing tips, programming techniques, and more.
That's all for now. More when I'll have time to spare.